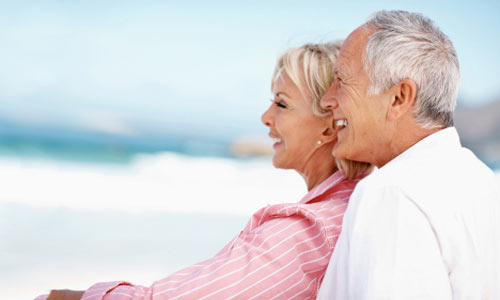 Knowledge is Power
Do you ever feel like you are worth more dead than alive? Your life insurance policy is no longer an all or nothing proposition.

It costs nothing and there is no obligation to see if you qualify to sell a portion of your life insurance for cash today.

A 5 minute call is all it takes to see if you are likely to qualify.
Dealing with the financial and emotional burdens of a cancer battle can be incredibly challenging. Your focus should be on receiving the best possible care, without worrying about the financial aspects. However, it's important to be aware that your illness may have created a hidden value within your existing life insurance policy, which can serve as an emergency fund.

If you meet the qualifications, you have the option to convert this hidden value into cash by selling a portion of your life insurance policy. The cash you receive is often tax-free due to your condition. Even if you have a Term Life Insurance policy or a policy with zero cash value, it could still hold significant hidden value that can be utilized for medical bills, medications, replacing lost income, and other hidden costs associated with a cancer battle. In fact, the more severe the illness, the greater the hidden value you will typically have.
While there are some differences between viatical and life insurance settlements, both can help you unlock hidden value in your existing life insurance policy.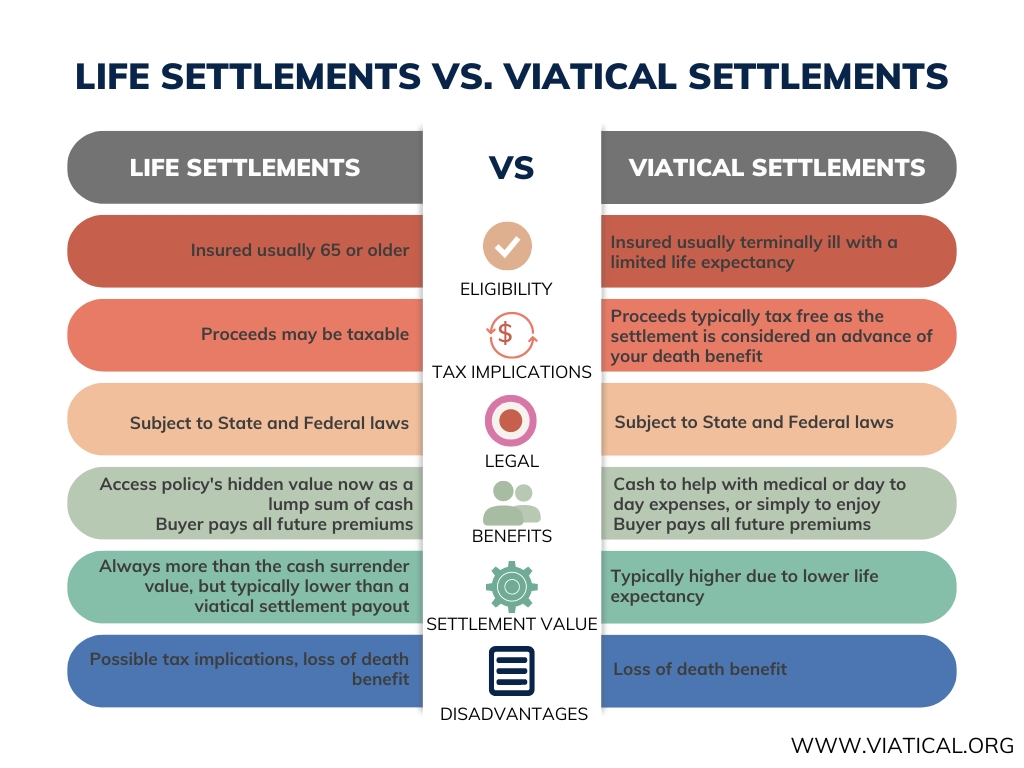 Gone are the days when life insurance was an all-or-nothing proposition. Now, you have the opportunity to benefit financially while you're still alive by tapping into the true hidden value of your life insurance policy now, when you need it the most.
Qualifying for Viatical and Life Insurance Settlements

Determining if you are likely to qualify for a viatical settlement usually takes just a 5-minute phone call. A licensed buyer in your state can provide you with an appraisal based on your specific health and policy details.

There is never any fee or obligation to learn if you have a hidden and untapped emergency fund within your life insurance policy.
Do you feel like you are worth more dead than alive?

Your Life Insurance Policy is no longer an all or nothing deal. If your health has slipped, you might qualify for a viatical settlement and the cash proceeds from the sale of your life insurance policy can be used for whatever you want.
John, a 47 yr old male with a terminal cancer diagnosis, a family to worry about and a life expectancy of only a few years contacted us. Once we gathered all of John's medical information from his Doctors and his specific Life Insurance Policy information from his Insurance company, it was determined that John had value in his insurance policies, which he could access today.
John chose to sell one of his insurance policies for a lump sum cash settlement today. He was able to pay off his mounting bills and better position his finances to take care of his family.
Policy Type: Convertible Term Life Insurance


Policy Face Value: $1,250,000


Cash Surrender Value: $0


Hidden Value: $750,000 that could be used immediately
Life Settlement Companies: Navigating the Industry
Within the life settlements industry, there are various types of companies that specialize in creating viatical or life settlements out of existing insurance policies.
Buyers of life insurance policies and alternative investments are attracted to the non-correlated returns offered by life settlements. These investments are based on factors like life expectancy and actuarial tables, rather than being tied to the stock market or interest rates. The calculation involves assessing the insured's life expectancy against the cost of paying the premiums on the policy.
It's important to note that life settlement brokers and settlement investment buyers often prioritize their own interests. While the National Association of Insurance Commissioners (NAIC) does not regulate life settlements directly, individual states have their own laws, often based on a model act, to protect the terminally ill and monitor the ratings of insurance companies.
Working With Life Settlement Brokers
When selling your insurance policy, you have the option to work directly or engage with a viatical settlement broker or life settlement broker, who essentially perform the same function but may have different buyers. It is crucial to understand that numerous intermediaries can become involved in the process.
Ideally, a life settlement or viatical settlement broker should prioritize the client's interests due to their fiduciary responsibility. However, it is essential to exercise caution, as some brokers may not adhere to this requirement. To address these concerns, the viatical.org direct platform was introduced to the Life Insurance Settlement Association (LISA) in 2016.
Choosing the Best Viatical and Life Insurance Settlements Company
Choosing the best life settlement company can be challenging because different companies have preferences for specific types of policies. Some viatical settlement companies may only consider policies where the insured is projected to live less than two years, while others focus on policies with a projected life expectancy of 10 years or more. Each company operates with its own unique approach.
If you are unsure where to begin and are considering working with a life settlement broker or viatical broker, be aware that they may charge up to 30% or more of your settlement. However, the vibrant life settlement market also offers the opportunity to sell your policy directly to investors.
Selling a life insurance policy can be daunting, as many financial advisors possess limited knowledge of the process and certain state insurance regulators lack oversight. A good starting point is to get your policy appraised. The viatical.org platform can assist you in finding the best buyer for your policy, regardless of your health condition, whether you are sick, chronically ill, or in decent health.
What is a Viatical?
vi·at·i·cal, vīˈatikəl,/
(noun) – A financial transaction whereby a person with a terminal illness sells their life insurance policy to a third party for less than the face amount of the policy but more than the cash value in the policy.
Sell Your Life Insurance Policy For Cash, Now, While you are still living.
A viatical is a transaction where the owner of a life insurance policy who has less than 24 months or less to live sells his interest as the insured to a viatical settlement company. The viatical life settlement company makes a cash payment to the insured in exchange for ownership and beneficiary of the life insurance policy. When the insured dies, the viatical settlement company receives a return on its investment in the form of the proceeds from the life insurance policy.
Learn about the benefits of viatical and life insurance settlements and about your different options, including Medicaid Life Settlements, Retain a Portion Settlements, and life insurance loans. Have your policy appraised before you take the next step. Knowing what your policy could be worth as a life insurance settlement gives you an advantage with the next step of the life settlement process.
---
How Does a Viatical Settlement Work?
A viatical settlement is a financial transaction that allows individuals with a life-threatening illness to sell their life insurance policy for a lump sum of cash, providing them with much-needed funds during a difficult time. If you or a loved one are considering this option, understanding the process is crucial.

When you engage in a viatical settlement transaction, you transfer the ownership of your insurance policy to a viatical settlement purchaser. They become the beneficiary of the policy and pay you a lump sum that is a percentage of the policy's face value. This arrangement grants you immediate access to funds that can be used to cover medical expenses, improve quality of life, or address other financial obligations.


What is an Example of a Viatical Settlement? Learn More About Life Settlements

In a viatical settlement, the policyholder, or viator, sells their life insurance policy to a viatical settlement purchaser for a lump sum of cash. For example, a 52 year old man with a terminal diagnosis and a 2 year life expectancy decides to sell his $200,000 Universal Life policy in a viatical settlement.  He receives $140,000 in cash that can be used immediately.

The viatical settlement purchaser then assumes responsibility for paying the policy premiums and becomes the policy's beneficiary. When the viator passes away, the viatical settlement purchaser receives the policy's death benefit.

Who Gets Paid in a Viatical Settlement?
If you're in poor health and considering selling your life insurance policy, also known as a viatical settlement, you might be wondering how and who exactly gets paid in this process. Viatical settlement companies specialize in purchasing life insurance policies from policyholders like you. By selling your policy, you can receive a lump sum payment that may be significantly higher than the policy's surrender value.

You get paid immediately upon the sale of your life insurance policy and the buyer of your policy will continue to pay the policy premiums and ultimately gets paid when the insured on the life insurance policy passes away.

---
Do Your Homework