Why would you sell your life insurance policy? Well, some studies state that more than 80 percent of life insurance policies never pay out a death benefit, others say as many as 80 percent of life insurance policies never pay out a death benefit. Either way, it's safe to say that only around 20 percent of beneficiaries are seeing proceeds from the insured's life insurance policy.
By selling your life insurance policy in the secondary market, you may receive an amount equivalent to, or even more than, the premiums that were paid over the years. Sure, some policies come with a cash surrender value, so you aren't technically losing all of the paid premiums, but the cash surrender value is usually only three to five percent of the face value of the policy. Viatical or life settlement transactions, for qualified candidates, may offer more than that, much more.
With less than 20 percent of life insurance policies actually paying out, if you no longer need your policy or your policy has become unaffordable, the question becomes why wouldn't you sell your life insurance policy.
Sell Your Life Insurance Policy
An increasingly common question is "I can sell my life insurance policy for cash?" Now one doesn't just have this thought on a whim, circumstances play a factor into this line of thinking, but in short, the answer is yes. Yes, you may be able to sell your life insurance policy to a third party for cash.
A policyowner generally begins to question this if something in their life has changed to affect the want, need, or affordability of the life insurance policy. For example, a retiree who may no longer be able to afford the monthly premiums, or an individual with serious medical problems. Even more, a business or estate situation has changed, or the marital status of the policyholder has changed. There are many reasons as to why a policyowner may look to sell their life insurance policy to a third party, but every scenario circles back to the same reasons:
The policy premiums have become unaffordable

The policy is no longer wanted

Life circumstances and needs have changed and the policy is no longer needed
There are several companies that buy existing life insurance policies. Several types of life insurance have a cash surrender value. However, while term life insurance policies cash value is nonexistent, you may still have hidden value within your life insurance policy.
Before a policy owner considers selling, they should get a life expectancy report and weigh the pros and cons of selling the policy to a third party against the possible needs of the beneficiaries.
Life Insurance Lapse
According to the Life Insurance Settlement Association (LISA), more than 250,000 life insurance policies of those aged 65 and above, with a combined face value of $57 billion, are either lapsed or surrendered back to the original insurance company each year. These numbers only reflect universal and variable life insurance policies. If you add term life and ordinary life policies into the mix, you are looking at a total exceeding $112 billion.
In a survey completed by the Insurance Studies Institute, results show that less than 50 percent of those over 65 are even aware that selling their life insurance policy is an option. And 90 percent of seniors who did lapse or surrender their policy prior to maturity may have considered selling their policy instead, had they known that it was an option.
If You Can't Afford Increasing Life Insurance Premiums
Some insurance companies have specifically increased the premiums on elderly Americans on certain policies that were issued in the 1980s and 1990s. A 2016 article from the New York Times, states that a certain life insurance company raised the monthly premiums on about "1,700 universal life policyholders who were over the age of 70 and whose policies had a face value of over $1 million."
"[The increase in premiums] has precipitated about a dozen lawsuits against insurers, some seeking class-action status. Many of the lawsuits claim that the insurers are raising their rates to force people to drop their policies entirely, often when they are too old to buy replacements. A canceled policy means an insurer gets to keep years of premiums without facing a future death-benefit payout," Julie Creswell and Mary Williams Walsh wrote in an article published by the New York Times. Insurance companies are raising these premiums because they rely on a high percentage of lapse.
Reduce Life Insurance Premiums
When life insurance becomes unaffordable, some may wonder, "How can I lower my life insurance premiums," or "How can I reduce my life insurance policy."
If an insured finds that their life insurance premiums are becoming unaffordable and they want to eliminate or reduce life insurance premiums, one option for them may be to sell their existing life insurance policy in the secondary market.
If selling your policy doesn't seem like the right fit, reducing your life insurance policy is another option. You would still have a policy in place, but your premiums would decrease as well as your death benefit.
Do You Need Life Insurance When You Retire
If you move to the city and find that you no longer need your car, do you keep your car insurance? If you decide to sell your house and travel the world, do you keep your homeowners insurance?
As you age, you may find that there is no longer a need in keeping life insurance after retirement.
If you and your spouse have accumulated enough wealth over the years to take care of yourselves after retirement, you may no longer need life insurance.

If you are finally, or are close to being, a (debt free) homeowner, you may no longer need life insurance.

If your children are grown, living independently and taking care of themselves, you may no longer need life insurance.
If you find yourself not needing or wanting the expense of life insurance premiums, you may be able to sell your life insurance policy to a third party and reap some of what you have sown over the life of the policy.
Terminal or Chronic Illness and Declining Health
We often get asked about the terminal cancer life insurance payout. The secondary market refers to that as a viatical settlement. Viatical and life settlements are similar in the fact that they both may provide you with a life insurance payout while you are still alive, but the stipulations to qualify for the two are different.
If you suffer from a terminal illness, one in which you have been given less than 24 months to live, then you may qualify for a viatical settlement. If you suffer from a chronic illness, or you know that your overall health is declining, then you may qualify for a life settlement.
Your life expectancy plays a main role in the qualification process of getting a viatical or a life settlement.
Viatical Settlement Estimated Percentage vs Life Expectancy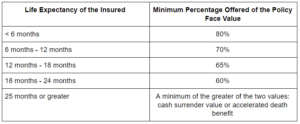 Life insurance accelerated death benefits (ADB) are existing provisions in some policies. An accelerated death benefit allows the policyholder to receive a portion of their death benefit as an advance if they have been diagnosed with a terminal illness. Upon the death of the insured, the beneficiary will receive the remainder of the death benefit that was not paid in advance.
Cancel Life Insurance
If you are looking to cancel your life insurance policy for one reason or another, it is likely that you know whether or not you have a cash value built up. You pay into your life insurance policy over the years and there's a cash value element and a cash surrender value element on some policies. In essence that's the amount of money the insurance company is willing to pay you for your life insurance policy, if you qualify.
If you have a term life insurance policy then you also know the value of what you will get back from the policy if you decide the policy is no longer needed. That amount is zero. Nothing. A life settlement by definition will give you more cash for your term life insurance policy.